Admin
Staff Member
Administrator
Developer
---
YunaMS
, also referred to as YMS, or the Yuna Network, is a v83 MSPS.
We are free to play, with no pay-to-win or vote-to-win features. We do, however, have pay-for-luxury/convenience, which I believe you will all enjoy.
Our rates are:
EXP Rate: 3x
Meso Rate: 2x
Quest Rate: 5x (Significantly buffed quest EXP < level 120)
Spawn Rate: 2x
Drop Rate: Custom (Lower-end)
Take the time to familiarize yourself with our
Terms of Service
.
You are permitted to use multiple clients, and share accounts, but again please ensure you have read through the ToS above.
You can obtain 5,000 NX daily by voting
here
; you may vote as many times as you like, assuming GTOP accepts it
and
your daily quota hasn't been met.
For your convenience, you can type
/vote
in-game to be immediately taken to the voting page.
If you're looking for a library of data about skills, monsters, maps, items, and such, have a look at our
Wiki
.
For a list of commands, type @commands or @help in-game for a full list, or
use @searchc to find the command you need quicker!
Without further ado, I present to you our full server features list:
---
Additionally, inside your YunaMS game folder, you will see a file named
settings
or
settings.ini
. This is your go-to file to enable/disable/change the way the client/YunaMS.exe behaves. Here's a list of modifications available for your convenience:
Client Resolution; choose any one of the following in-game resolutions that fit your monitor's needs:​

800x600​

1280x720 (recommended)​

1600x900​

1920x1080​

Client Start-up Location; when the client first opens, choose where it initially appears:​

Damage Skins; tired of the same old damage font? You can choose from over 250+ skins​

Enable/Disable the "You may not use the skill yet" or "The skill requires full energy charge" messages​

Enable/Disable the "You cannot use that skill on this map" message​

Enable/Disable the "You don't have enough HP/MP" messages​

Enable/Disable the disease notifications such as "You have been stunned", etc.​

Enable/Disable MapleTip yellow messages​

Enable/Disable map backgrounds (May increase performance at the cost of beauty)​

Enable/Disable the quest lightbulb above your head​
---
For a full set of details, please see the
Skills Wiki
:
We realize there will be extra SP leftover for explorers due to the increased level cap and lack of new skills like Cygnus Knights; as such,
all 5 original explorer
classes will receive a new skill -
Explorer's Blessing, an active skill providing a significant buff for a short period of time. Damage potions WILL stack with this, however Echo of Hero will not.
EB can be obtained through "The Final Blessing" questline, which will appear above your head in the quest lightbulb the moment you hit level 200.
---
New Reward Added: Shiny Event Box
- Traded for 15 Event Points via Jarvis; double-click to obtain an item as follows:
- 70% chance to obtain a common item (15% scrolls)
- 20% chance to obtain an uncommon item (low-tier CSS scrolls, Pet Equip ATK/MATK 60% scrolls, Advanced Gems)
- 10% chance to obtain a rare item (Chaos, White, CSS20 scrolls)
---
do not apply to bosses
:
Leechers must be within at least 30 levels of the monster's level to receive EXP​

Leechers must be within at least 20 levels of the highest member of a party to receive EXP​

Leechers who are AFK for too long will stop receiving EXP​
Do note: if you were the main killer of the monster, meaning you received WHITE exp, then you will always gain the EXP regardless of any of the checks
. However, the checks above will apply if you were NOT the main killer. This is to ensure players can still party with higher levels, and still discourage leeching.
---
The amount of bonus you gain will be a percentage of the main EXP you receive (since there are 2 lines of EXP you gain per kill).
For example:
If you are in a party of 5, and your white EXP is 500, your party EXP will be ~500. This breakdown only applies to non-boss monsters, as bosses will have their own EXP system (mentioned further in this features list). Here's the party EXP breakdown::
​
---
Additionally, you will receive certain tokens/PQ items from completing a party quest. You can trade/buy/sell these items as an added bonus!
---
---
Pink Bean
and
Empress Cygnus,
can be attempted twice per day. Your attempt count will increase the moment you enter the expedition - so be prepared! But don't worry, if you ever disconnect while inside your expedition, you will be able to warp right back in upon relog, assuming the expedition is still underway. Additionally, in order to prevent monopolization, players will be unable to use the same machine for multiple characters in the same expedition. For a full list of your daily bosses, use the
@dailies
command.
Pink Bean and Empress are a little different. Due to their difficult nature, you can attempt them
once per week
. However, your attempt count will only increase when you have successfully SLAIN the monster - not just when you enter the expedition. Here's a list of bosses available to you:
Balrog
Chaos Horntail
Chaos Papulatus
Chaos Scarga
Chaos Zakum
CWKPQ
Empress Cygnus
Horntail
Krexel
MVPQ (Treasure PQ)
Papulatus
Pink Bean
Scarga
Showa (The Boss)
Toad (Castellan)
Von Leon
Wulin Yaoseng
Zakum
---
assuming you met the minimum damage quota
:
​
Additionally, server runs refer to bossing with a large number of players. This is a fun aspect that brings the community together, so we don't necessarily want to limit this. However, we don't want players monopolizing Spirit Point gain, especially if it hurts those who don't have the opportunity to join. To combat this, the amount of Spirit Points you receive will be reduced based on the number of players in your expedition, as follows
(NOTE: This reduction does NOT apply to Pink Bean or Empress)
:
Here are a few more methods of obtaining Spirit Points:
Party Quests (See "PQ Points" section below)
Jump Quests (See "Jump Quest System" section below "PQ Points" section)
Events (Trade Spirit Coins for Points)
---
players can trade PQ points for Spirit Points via the PQ Point Shop in Jarvis:
Here's a breakdown of which PQs give which awards:
Finally, due to the value of Spirit Points, players will be capped at 100 PQ Points daily, resetting at midnight.
---
Spirit Points
. Entries reset at midnight. Visit Paul in the Free Market to get started! Here's a peak at the system:
---
Ulu City​

Thailand / Floating Market​

Lion Heart Castle​

Eastern China​

Shaolin Temple​

Ninja Castle​

Henesys Ruins​

Future Perion​

Dark Ereve​

Knight's Stronghold (It's dangerous to go alone...)​
---
Zakum's Poisonic
,
Timeless, and Sweetwater
sets
:
Zakum's Poisonic gear can be obtained through drops from Chaos Zakum
Timeless gear can be obtained through drops from the Pink Bean
Sweetwater weapons can be obtained through the Maker skill; other parts of the set can be found scattered across the world; use the Wiki/@whatdropsfrom@whodrops commands for more info
... Oh and you may want to talk to that mysterious man in the Stronghold..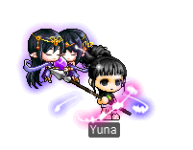 ---
Please read each section for more information about the implementation/system to familiarize yourself with some important features in YMS.
Here's what he looks like and what he has to offer:
---
Beast Slayer
NX medal from the Cash Shop, which will cover your existing medal. Check out the RING section of CS:
If you still wish to HP wash, you are free to do so.
BEGINNERS/NOBLESSE/LEGENDS
:
If you decide to choose the path of the beginner (i.e. not job advancing), you are also free to do so. If you reach level 120, you will initiate a new questline (via a quest light bulb):
A Beginner's Path
. This will assist you with your
max
HP/MP.
NOTE: Once you complete the questline, you will be locked into the beginner's path permanently - therefore you will not be able to change your job any longer.
---
Additionally, if the server restarts, area bosses will not spawn immediately - they will be randomized anywhere between 0-12 hours of server restart, to further prevent any sort of camping.
Finally, players will receive additional
Spirit Points
for slaying an area boss. The point breakdown can be found below:
---
In YMS, however, stat gain is a little different. Players will no longer have a chance to lose stats. Instead, the potential values are anywhere between 0-5 of the respective stat (applies to the use of stimulators as well, not just gems/crystals). The higher the tier crystal, the higher chance/stat gain you will receive, up to the max of 5. Do keep in mind that weapons may use attack or stat-based gems; however, non-weapons can only use stat-based gems - not attack-based.
To summarize:
- Attack-based gems will only work on weapons. Stat gems will also work on weapons.
- Attack-based gems will NOT work on non-weapons. Stat gems will work on non-weapons
- Gems will add anywhere between 1 to 5 of the respective stat you are trying to increase, depending on the gem tier
- Stimulators will add anywhere between 1 to 5 of the respective stats of the item
Additionally, to reward players who have crafted frequently, the following chances have been implemented:
Basic Crafting (1 Gem):​

85% chance to obtain 1 Basic Gem​

15% chance to obtain 1 Intermediate Gem​




Intermediate Crafting (10 Basic Gems):​

90% chance to obtain 1 Intermediate Gem​

10% chance to obtain 1 Advanced Gem​




Advanced Crafting (10 Intermediate Gems):​

100% chance to obtain 1 Advanced Gem​
Lastly, in an effort to provide more crafting options to players of various level ranges, certain gems are receiving buffs:
If you ever need to re-roll your item, remember you can disassemble certain equips to re-gain some of your lost items. For example, you can disassemble any Sweetwater weapon to gain back an Empress Diamond.
---
The maximum stats you can gain is +100 AP stats, +100 WDEF/MDEF, and +1000 HP/MP.
These stats are automatically recorded in your
Monster Memories
- a cash pendant given to all new players. Worry not, as this item covers your existing pendant so you can continue to wear both.
Additionally, you share this book within your account so collecting cards is not character-based, it is account-based
. Here are the stats you can earn:
---
Spirit Points can be redeemed for prizes via Jarvis' Spirit Shop.
Use the
@weeklies
command in-game to get started, and speak to Jarvis to see what your points can buy you!
---
Bowman Gachapon​

Magician Gachapon​

Warrior Gachapon​

Thief Gachapon​

Pirate Gachapon​

Mount Gachapon​

Chair Gachapon​

Chair Storage​
Each of the class-based gachapons will include rewards tailored to that class. Additionally, each of the class-based gachapons will have the same RARE reward pool, so you'll never have to compromise on your reward potential when picking which machine to use.
Additionally, the chair storage has been implemented, separate from Scrooge, so as to not conflict with your storage space. Sometimes, it's OK to be a chair-hoe like me.
---
voting
, or by purchasing Maple Points
here
. All items in the EVENT tab are PERMANENT, as they can only be purchased using Maple Points. The remaining items will last 30 days. Happy Shopping!
---
---
If you're interested in testing your hacks on my dev server, however, feel free to reach out and perhaps we can have some fun with it
​
---
Monsters will respawn 2x the rate of normal v83 GMS​

YMS is equal-opportunity; therefore we have removed all gender restrictions across all aspects of the game​

Rope and ladder climbing speed has been increased significantly; no more slow climbing​

Secondary stats are not required; your monster memories and medal will make up for it!​

The chat limit has been increased to 999,999; you'll be able to scroll up for quite some time on your generate/buddy/party/etc chats​

High-version chairs have been imported and the client modified to allow usage of them; meaning, these chairs will lift you from the ground​

APQ: increase in Onyx Apple drop rate from bonus stage; removal of stage 5 because who really enjoys that?​

Area boss timers have been randomized by +- 20% of their original respawn timers; i.e. if a boss spawns every 10 hours, it will spawn every 8-12​

Account-based beauty book that saves all hairs and faces, which can be shared between characters​

@buyback will allow you to buy back an item you may have accidentally sold to an NPC​

@recharge will allow you to recharge your stars/bullets/arrows immediately but at a luxury-based price​

@mobele will display all elemental weaknesses of all monsters on the map you're on​

@rankings has been upgraded to a more robust system with kill rankings, damage rankings, and more​
Remember to use the @commands feature in-game to see a full list of all player commands available for your pleasure, and explore the YMS world for more features and easter eggs.
Last edited: