Admin
Staff Member
Administrator
Developer
Hello!
Seeing the patch notes here means the update has already taken place and is live.
To receive the update, please run the Patcher, which is located in your YMS folder.
If you are still having trouble with the patcher, please re-download the game files
from here
. They are freshly uploaded with each patch.
Latest Patches:
Quality of Life Changes:
- Beauty Book is now account-shareable rather than per-character
- Disabled auto-assign AP in favor of stat-based commands to prevent players from accidentally assigning secondary stats
Fixes:
- Fixed an issue with the Sharing Tag causing unintended interactions with player storages
- Fixed an issue causing players to crash occasionally when using a vendor shop
- Fixed an issue where certain hairs/faces showed "NO-NAME"
- Fixed an issue where players would be soft-locked when opening a mini-game
- Fixed an issue where 15% Helmet Scrolls in the Spirit Point shop were unintentionally flagged as untradeable
Click here for the manual patch (for those who have trouble running the patcher)
As of this patch, the Burning Event is now LIVE! All players below level 120 will now level up TWICE per level. This event will last until the end of December, so be sure to grab your pals and begin slaying those pesky beasts. Additionally, this update will pre-load some of our Christmas content, which will be made available in a later patch. Here's what's new for today's patch:
New Item: Sharing Tag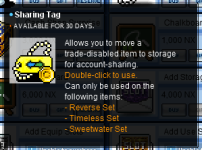 - Allows players to transfer an item in their inventory directly to storage
- Useful for items that can't typically be stored
- Eligible items: Sweetwater, Timeless, and Reverse gear
- Can be purchased via the Cash Shop ETC tab > Game section
Skill Changes:
- [All Warriors]: Rush can now be used without a mob present
- [Wind Archer]: Final Attack actually works now; attacks occur instantly, without delay, just like the other FA's
Quality of Life / Additional Changes:
- Beginners now have the option to skip the Maple Island beginner phase (see in-game for details)
- Expanded the storage and vendor windows by 9 slots (Thanks Goose!)
- Town scrolls can now be assigned to a key mapping and used just like a potion
- Items received from the PQ point shop will now be tradeable by default
- Jump Quests are now limited per account instead of per character, as intended
- Maple Tips are now a bit more relevant
- Added the Orbis ETC Exchange quest to Staff Sergeant Charlie in Orbis
- Added Helmet for STR/LUK 10%/30%/60% scrolls to monster drop tables
- Added Helmet for STR/DEX/INT/LUK 15% scrolls to the Spirit Point shop
- Increased the drop rate of Zombie's Lost Gold Tooth from 2% to 10%
- Increased the drop rate of all Yeti & King Pepe monster cards from 6.6% to 66%
- Decreased the maker cost for creating Rock of Time from 50m to 11m
- Decreased the Proof of Pink Bean maker requirement for Rock of Time from 5 to 3
- Decreased the Proof of Empress maker requirement for Empress' Diamond from 5 to 3
Fixes:
- Fixed an issue with timers not persisting when entering portals in Jump Quests
- Fixed an issue where left-aligned item descriptions would not display in the Cash Shop
- Fixed an issue with merchants that would cause duplicate visitors
- Fixed an issue with items falling in the wrong position on Mountain Road 1 and 2
- Fixed a few mobs on the wiki page that would cause Server Error 500
- Fixed a few null issues preventing players from exiting certain PQ instances
Images: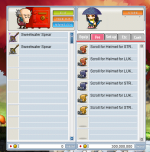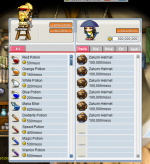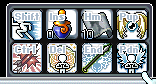 Manual Patch (if needed):
https://www.mediafire.com/file/r1e7inmwgkf6j8l/Manual+Patch.rar/file
Last edited: